Information
This fanlisting was approved by the fanlistings on/about December 21, 2007 and opened officially on/about January 19, 2008.
Previous Layouts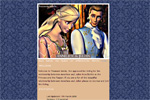 Fonts: French Script MT, Felix Tiling, Trebuchet MS.
Layout Information
The fonts used on this layout are Fiolex Girls, Champignon, and the text font is Trebuchet MS. The background pattern is from the The Inspiration Gallery.